Google is ending support for less secure apps in 2020, heres how to ensure you stay connected
Google has announced that support for "less secure apps," which require only a username and password for access, will end February 15, 2021. As a result of the change, any app that lacks OAuth access will stop functioning, This means that people who use an iPhone or iPad may need to take action to maintain access to G Suite account data on their devices (you can read Google's blog post which provides more details).
One option is to install the Gmail or Google Calendar mobile apps, which already offer secure authenticated access. Alternatively, people who use an iPad that runs iOS 13 (or newer) might choose to access all G Suite data from within Safari. The desktop-class features in Safari let you use Gmail, Google Calendar as well as many other G Suite apps within the native iPad browser.
How to remove a G Suite account from an iPhone or iPad
Tap the Settings app to open it.
Scroll down, then tap Passwords & Accounts.
Tap the account you want to remove. After you tap, the system will display the email address associated with the account, as well as the sliders that indicate sync status (i.e., Mail, Contacts, Calendars, Notes).
Ensure the email address displayed matches the email address of the account you wish to remove from your device. Tap Delete Account, then confirm that you wish to remove the account with another tap (e.g., tap Delete From My iPad or Delete From My iPhone) .
Wait and repete for each account as required.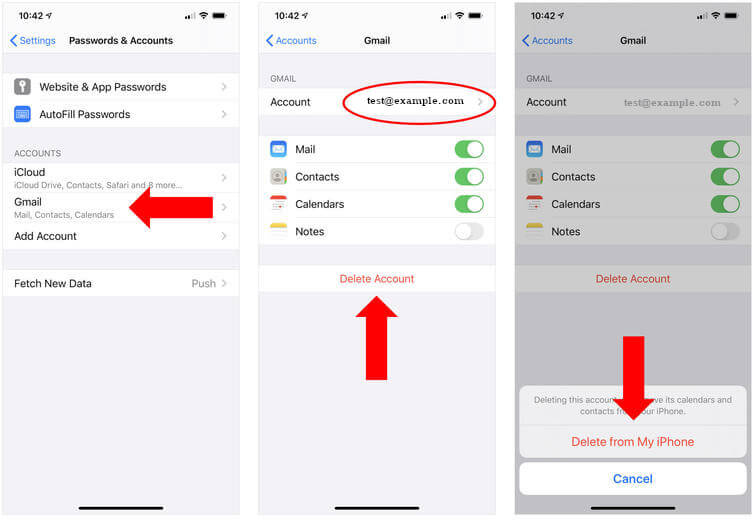 How to Add a G Suite account to an iPhone or iPad
Tap to open the Settings app.
Scroll down, then tap Passwords & Accounts.
Tap Add Account. 
Tap Google. 
The system will display: Settings Wants To Use Google.com To Sign In. This allows the app and website to share information about you. Tap Continue.
Enter your G Suite email address in the Google Account Sign in screen, then tap Next
Redo for each account as required.